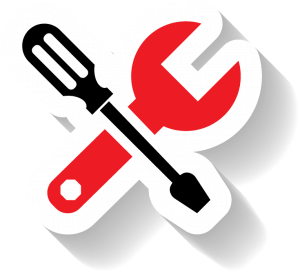 Macserv IT believes in long-term care, not short-term repairs. The best way to ensure continuity of your business's IT infrastructure is by maintaining good "hygiene." Our Managed Services package is how most clients keep their workstations and servers healthy.
Because no two clients have the same IT setup, we base a custom Managed Services quote on your actual hardware/equipment—everything you have in house right now. Why force you into tiered pricing that disregards your actual office configuration? Why take advantage of your technology fears and insecurities? Exactly—we shouldn't, so we don't.
One thing that IS consistent across all clients is our security-first mindset. We are crazy-serious about protecting your business, your data, and your sanity. Security has become a much more serious issue over the last few years for every business, regardless of size. Whether it's phishing, data leakage to the Dark Web, ransomware, or some other risk, we partner with some of the biggest names in security services and are constantly seeking out and deploying best-in-breed solutions. A poor security posture is something that can keep EVERY business owner up at night, and our goal is to have you sleeping like a baby.
Your custom Managed Services plan may include:
Help Desk: All Macserv clients have access to our Help Desk. Just call or e-mail us for timely remote support. We'll figure out WHY your desktops and laptops aren't doing what your employees want them to do.
Remote Monitoring and Maintenance: Unsure of how to proactively monitor your hardware and keep it safe? We look for dark clouds brewing in the distance that could gather speed and damage your data. Macserv's remote maintenance includes regular patches/updates to your operating system, system backups, being on virus patrol against security breaches, and monitoring for unproductive employee work time and compromised file integrity.
Data Backup: Another way we encourage good IT health is by helping clients back up and store multiple versions of their data assets. You never know when you'll need to retrieve a lost file—it could be at 3 a.m., or it could be before the final presentation to a prospect you've been nurturing for months.
Managed Network: Every one of our clients rely on the Internet and/or Wi-Fi coverage to get their work done. We help them surf, swipe, and click effortlessly by monitoring the network for bandwidth-usage issues. We also identify potential system threats and hardware problems.
Disaster Recovery: No business owner enjoys thinking about the torturous process of recovering data files and other digital assets. The only way to minimize the agony of downtime and get your business back on track is by planning ahead. System backups ensure your employees can access and use the critical data that keeps your business running. There's a reason cruise ships stockpile life jackets and hold fire drills…
Project Management: As seasoned planners, we manage the detailed IT projects that tend to fray an office manager's or in-house IT person's nerves. Macserv will ensure a smooth IT move to your new location. We're also adept at integrating a new CRM database, phone system, or security system with your current setup. We strategize each project's logistics the way certain kids build K'NEX or LEGO sets…
Next-Generation Monitoring: Macserv is a huge proponent of Cisco Meraki network hardware. It's way-cool technology that talks to us in real time. The system notifies us of a serious problem about to rock your employees' world, such as a server disconnection, your Internet provider going down, or invalid log-ins to your internal system.
Not sure which of these tools will best help to improve your workflow and productivity? Contact us and ask as many questions as you like. We guarantee immediate stress reduction during your first Macserv encounter!